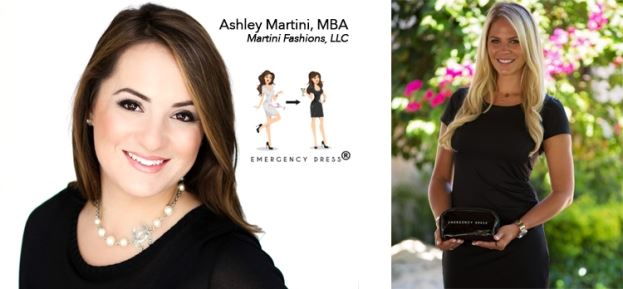 This week, we would like to take a moment to recognize the outstandingly talented creator of the Emergency Dress, Ashley Martini. The culmination of over a year of hard work and determination has begun to yield great results as the Emergency Dress has been selected as a finalist for QVC's Sprouts competition and you can help! QVC's Sprouts works by presenting three fresh products to its customers and asking them to choose the next big thing. Whichever product has the most votes at the end of the two-week voting period will then become available to purchase within two weeks of voting end. Let's get the Emergency Dress on QVC!
To vote, please follow these three easy steps:
Go to the link to vote: http://qvc.co/Week94Dress
Just click: "Yes, sounds interesting" under the Emergency Dress, which is the first item (you will see a girl in a black dress).
Scroll to the bottom of the page and submit your vote.
Thank you and please share this with your family and friends!
Ashley Martini, MBA, Styling Consultant, author, professor and founding member of Martini Fashions, LLC, assists both men and women unearth and exhibit their inner most beauty through style, fashion, and the top most trends. She graduated from Lynn University in Boca Raton, FL with a Business degree where she specialized in both fashion marketing and merchandising. She also completed her Masters in Business with a focus in International Business. She studied abroad in the world's fashion capital, Paris, France with a concentration in fashion styling and trend forecasting.
Ashley Martini's career began with Jennifer Lopez's fashion company Sweetface/JustSweet/JLO and would later go on to include numerous awards such as "Project Runway" at Lynn University and the "Sak's Service and Selling Star" award while she was Brand Ambassador for Reed Krakoff. Her clothing has been featured in a variety of fashion shows and was even hand-picked to participate on the television series "NYC Prep" in the episode fittingly entitled "The Overachievers," which featured and focused on upcoming stylists motivated and dedicated to succeed in the fashion industry.
Today, Ashley Martini is the founder and designer of The Emergency Dress, which is now up for selection through QVC's Sprouts Competition. After a wardrobe mishap at a wedding, Ashley Martini realized that women would benefit from a back-up outfit plan. With the belief that every woman needs an emergency little black dress as a backup at all times, she invented a way to "impress without the stress" by designing The Emergency Dress, a knee length, short sleeved little black dress with a ruched mid-section that is wrinkle resistant and flattering on every body type.